Make the most of your smile in Milton Keynes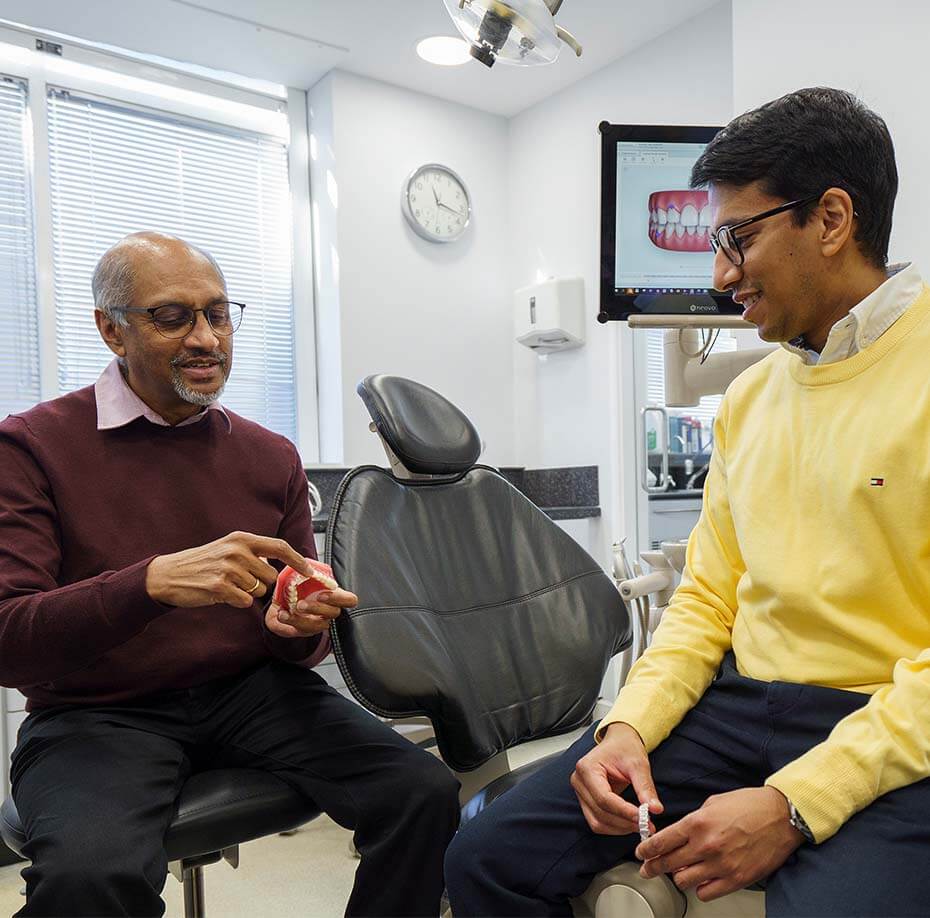 At Oxley Park Dental Practice, we understand the importance of carefully planning your new smile. No two patients are alike, presenting different issues, needs, concerns, and desired outcomes. In your new smile consultation, Dr Bechar will listen to you carefully to understand how best to produce the outcomes you want.
Relying on decades of dental experience and up-to-date knowledge of dental technology, Dr Bechar will tailor your treatments for you as part of the personalised care we are known for. If you want to design or revitalise your smile, get in touch with us today to find out more about your options and book a consultation.
The benefits of a new smile consultation at Oxley Park Dental Practice
Helps us understand your needs
Takes your medical and dental history into account.
Results in a bespoke treatment plan just for you
Conducted by our expert dentist, Dr A Bechar.
Clearly defines your desired outcome.
Book your appointment
New Smile Consultation FAQs
At Oxley Park Dental Practice, we pride ourselves on building a lasting understanding of each client and their needs. All consultations and treatments are delivered by the same dentist, Dr A Bechar.
If you're missing a tooth, expect the gap to be filled; if your teeth are discoloured, they can be whitened; if your teeth are misaligned, they can be straightened using Invisalign clear braces. Whatever your dental needs, we have treatments to meet them.
Dental implants are the gold standard of tooth replacement treatments. Implants are fixed directly into your jaw, which ossifies around the new tooth and further strengthens the bond. An implant is an enduring treatment and can last for decades if you continue to look after your mouth through a good oral hygiene routine.
Invisalign braces are not only discreet but highly effective, able to address any kind of bite or misalignment issue. The most complex or extreme cases of bite issues might require surgery, but Dr Bechar will discuss this with you in your consultation. For the vast majority of patients, Invisalign braces are sufficient in and of themselves.
New smile consultations are for anyone who want to address one or more dental issues and gain a healthy, bright, and even smile.
Teeth whitening at Oxley Park Dental Practice begins with taking impressions of your teeth and having special trays manufactured just for you. For 14 consecutive days, you then apply Enlighten whitening gel to the trays and keep them in overnight. Once the 14 days are up, you return to the practice for a final, hour-long appointment, and you're done! Teeth whitening is simple, painless, affordable, and transformative.
Highly Recommend!
"Oxley Park dental practice is great! Ashwin is really friendly and gives great advice on dental hygiene and taking care of your teeth. The surgery is really clean, has state of the art equipment and Ashwin is good at calming your nerves if you aren't keen on going to the dentist."
Read Reviews
Teeth whitening
Teeth whitening is one of the easiest ways to enhance your looks. Achieve a whiter, brighter smile with Enlighten® Teeth Whitening in Milton Keynes!
BRIGHTER SMILE
Porcelain veneers
Veneers can improve the colour, shape, and appearance of your teeth with minimal tooth preparation. At Oxley Park Dental Practice, we make veneers to treat gapped, crooked, uneven, discoloured, chipped, and worn teeth.
PERFECT SMILE
Dental hygiene
At Oxley Park Dental Practice, we emphasise dental hygiene and regular visits to the hygienist to ensure optimum gum health. The hygienist will also show you correct methods of brushing and flossing and check to ensure you're doing it right.
HEALTHY GUMS