Discover the power of an Invisalign smile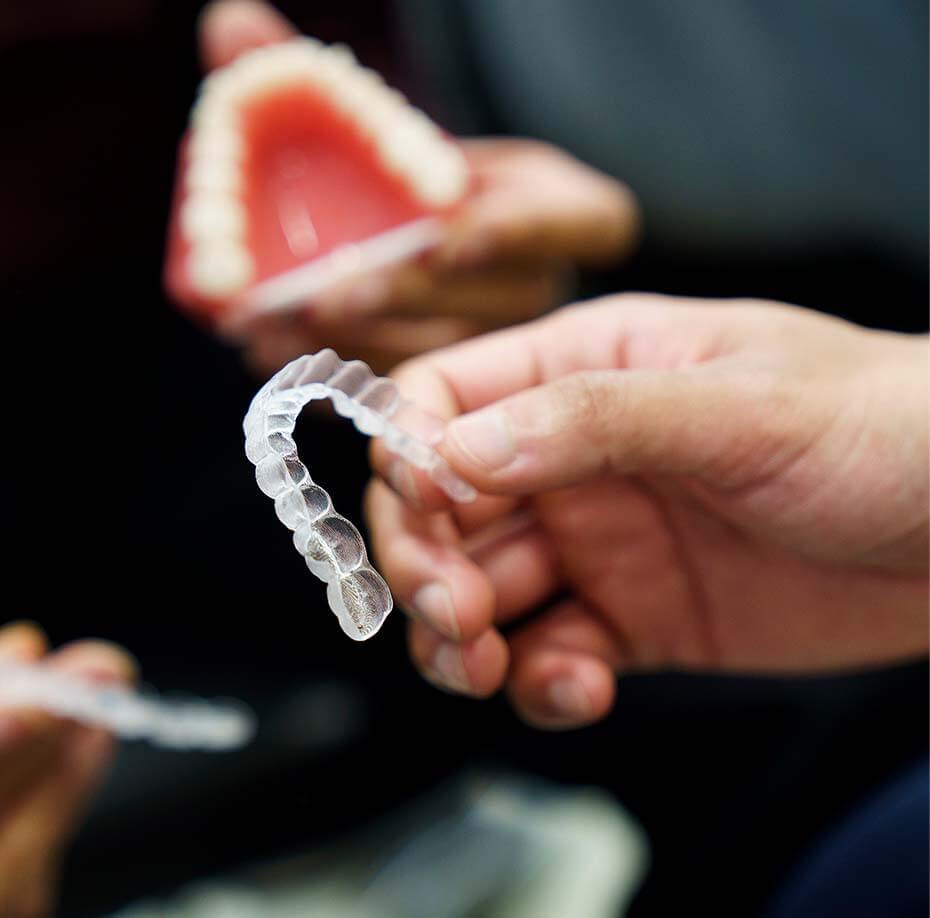 Teenagers can be self-consciousness, but Invisalign clear aligners are discreet, invisible from even a short distance, and if someone was up close they'd have to be looking pretty hard to spot them. Invisalign trays are perfect for the teenager who wants to keep their braces private.
There are other compelling reasons for teens to choose Invisalign treatment. An older patient might find their teeth slowly migrating back towards their original position after having braces, but a younger patient's jaws and teeth will accept correction more easily and are likely to stay that way.
Many teens play sports and games, during which traditional braces might get damaged and develop protruding metal wires or rough edges. Invisalign are designed to be removed before a game, and rinsed and replaced in the mouth afterwards.
The benefits of Invisalign:
No impact on what you eat. Remove them before you tuck in.
Discreet and comfortable to wear.
Remove them before playing sport – no risk, no damage.
Safe to wear – no wires or rough edges
They won't affect your speech.
Book your appointment
Invisalign FAQs
Invisalign treatment is extremely effective, especially for teens. If a person's body is still growing, it will respond well to the pressure the braces apply to the teeth.
Invisalign works through gentle but consistent pressure against the teeth and jaw, moving them into alignment over time.
Traditional braces could become a liability if damaged during physical activity, developing sharp edges and needing an urgent appointment to fix them. Invisalign trays are designed to be removed before a game, eliminating the risk of damage altogether.
Typically, 6 to 12 months, depending on your age and needs. Dr A Bechar will give you a more precise timeframe at your consultation.
Only for eating, drinking, and playing sports or other intense physical activities. Invisalign work by applying continual pressure to the teeth and need to be in the mouth for 20-22 hours a day to be effective. It's up to you to be disciplined if you want to get the most out of Invisalign.
The majority of patients tell us that Invisalign has no effects on their speech whatsoever.
Highly Recommend!
"After shopping around for dental practices which offer Invisalign, it felt like a no brainer when I met Dr Ashwin Bechar and his team. I instantly felt at ease and it is very clear that he is skilful in both his work and experience. I cannot wait to begin my Invisalign journey and have shiny, new pearly whites :)"
Read Reviews
Teeth whitening
Teeth whitening is one of the easiest ways to enhance your looks. Achieve a whiter, brighter smile with Enlighten® Teeth Whitening in Milton Keynes!
BRIGHTER SMILE
Porcelain veneers
Veneers can improve the colour, shape, and appearance of your teeth with minimal tooth preparation. At Oxley Park Dental Practice, we make veneers to treat gapped, crooked, uneven, discoloured, chipped, and worn teeth.
PERFECT SMILE
Dental hygiene
At Oxley Park Dental Practice, we emphasise dental hygiene and regular visits to the hygienist to ensure optimum gum health. The hygienist will also show you correct methods of brushing and flossing and check to ensure you're doing it right.
HEALTHY GUMS