Discover the power of an Invisalign smile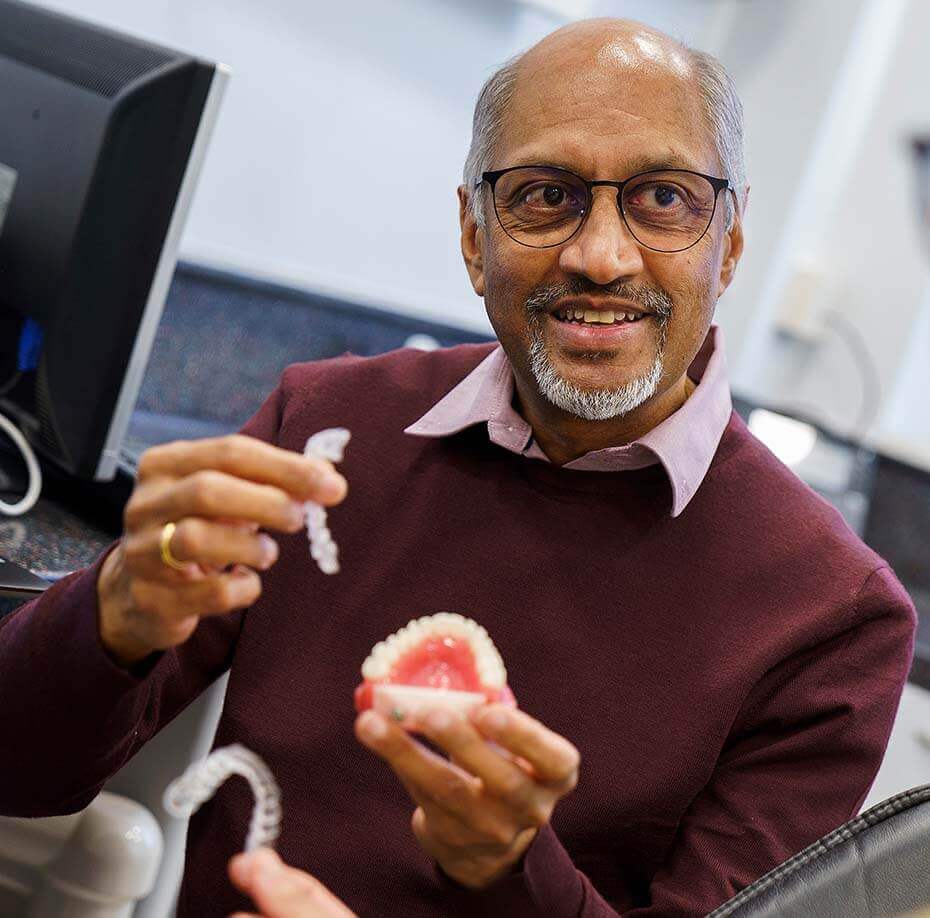 Invisalign clear aligners are extremely versatile and effective, able to treat any kind of bite issue. Whether your teeth are crowded, overly spaced, or you have a cross bite, open bite, underbite or overbite, Invisalign can make the difference you're looking for.
For the most complex bite issues, a fixed option or even surgery might be more appropriate, but for most patients, Invisalign provides the solution they are looking for without the inconvenience and unsightliness of fixed braces. If in doubt, speak to Dr Bechar during your consultation.
If you already have fixed restorations in place, Invisalign might not be the best treatment for you. Dr Bechar in Milton Keynes will assess any existing work and let you know if it is compatible with Invisalign treatment.
The benefits of Invisalign
Addresses any type of bite issue
Discreet and comfortable to wear
Removable trays for eating and drinking
Easy to rinse and clean
Removable during sports
Book your appointment
Invisalign FAQs
Invisalign treatment is for anyone who wants to correct the alignment of their teeth. The most complex bite issues may require surgery or a fixed option, but if that's the case for you, Dr Bechar will discuss your options during your consultation.
Invisalign works through gentle but consistent pressure against the teeth and jaw, moving them into alignment over time.
One of the benefits of Invisalign treatment is that the trays are custom-made for each patient. At Oxley Park Dental Practice, we will take a 3D, digital scan of your teeth which is used to create your unique, comfortable trays.
Only for eating, drinking, and playing sports or other intense physical activities. Invisalign work by applying continual pressure to the teeth and need to be in the mouth for 20-22 hours a day to be effective.
Because bridges securely link two or more teeth, they are likely to be resistant to the pressure Invisalign places on the teeth, and the movement of those teeth. Dr Bechar will be able to determine whether Invisalign is the right treatment for you.
Wearing a retainer after any orthodontic treatment can help maintain results, as it will hold your teeth in their new positions overnight. Dr Bechar will advise on whether this would be a good step for you.
Highly Recommend!
"After several years as a regular patient, I finally took the plunge and got my teeth straightened through the practice, using Invisalign. Dr Bechar and Team have been fabulous and I'm amazed and pleased with the result."
Read Reviews
Teeth whitening
Teeth whitening is one of the easiest ways to enhance your looks. Achieve a whiter, brighter smile with Enlighten® Teeth Whitening in Milton Keynes!
BRIGHTER SMILE
Porcelain veneers
Veneers can improve the colour, shape, and appearance of your teeth with minimal tooth preparation. At Oxley Park Dental Practice, we make veneers to treat gapped, crooked, uneven, discoloured, chipped, and worn teeth.
PERFECT SMILE
Dental hygiene
At Oxley Park Dental Practice, we emphasise dental hygiene and regular visits to the hygienist to ensure optimum gum health. The hygienist will also show you correct methods of brushing and flossing and check to ensure you're doing it right.
HEALTHY GUMS