Restore an even, bright smile with smile treatments in Milton Keynes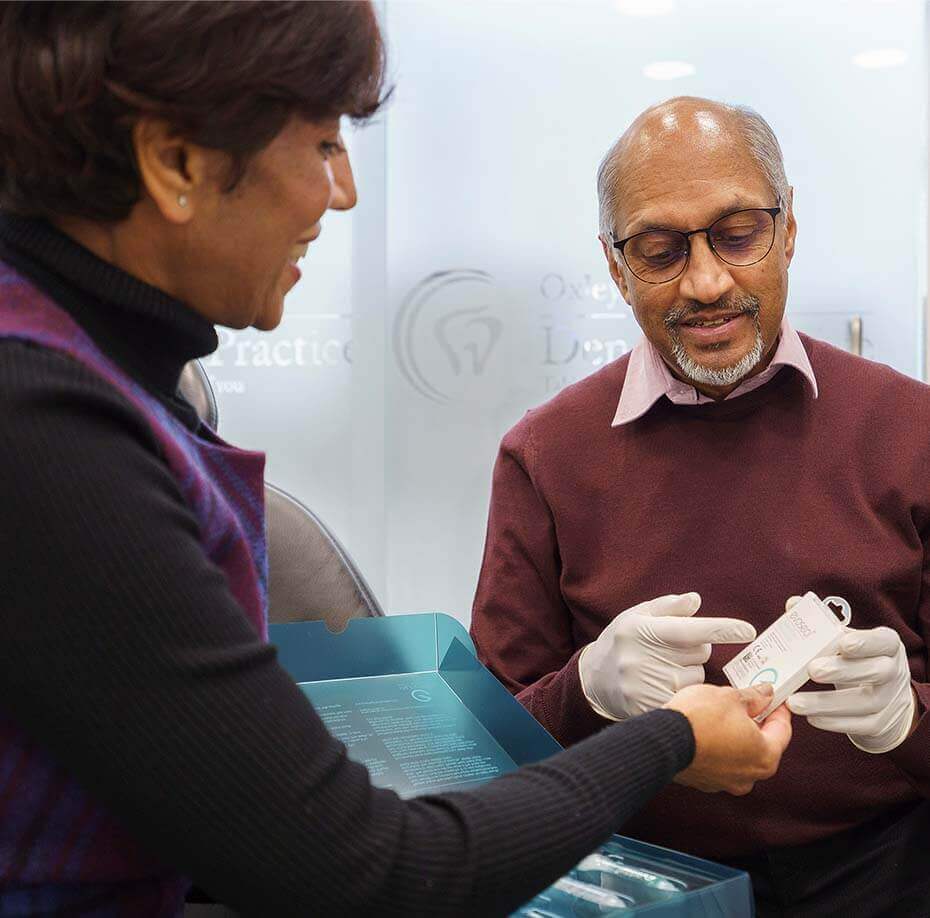 Not everyone is lucky enough to have a naturally youthful, full smile with even, white teeth. Many of our patients come to us because their teeth are misaligned, or they have bite issues such as crossbite or overbite. Over time our teeth can become damaged and discoloured, and it can be easy to let things slowly deteriorate, but much can be done to restore your smile, giving you new confidence.
At Oxley Park Dental Practice, we provide a range of treatments to address all your smile concerns, including Invisalign clear braces, teeth whitening, composite bonding, smile makeovers, white fillings, crowns, veneers and bridges, and dental implants. Call us today on 01908 867055 to discuss your options.
The benefits of smile treatments at Oxley Park Dental Practice
Performed by an experienced dental practitioner, Dr A Bechar.
Straighten misaligned, crowded, or gapped teeth.
Repair damaged teeth.
Eliminate unsightly discolouration.
Give your confidence a boost.
Book your appointment
Smile Concerns FAQs
There are several treatments to deal with a missing tooth, but best of all is a dental implant. Your jaw needs a tooth to interact with to retain its strength and shape, and a dental implant replicates a real tooth as closely as possible. Dental implants are fixed into the jaw itself, where the bone ossifies around the new tooth, further strengthening the bond and preserving the life and health of your jaw. As implants are mostly made from titanium, they are incredibly durable, potentially lasting for decades if looked after properly.
When white fillings first came into common usage, they were considerably less durable than their metal predecessors, but due to significant advances in dental technology, white fillings can now last as long as 15 years. There are three types of white filling, each of which has its advantages and disadvantages. Dr Bechar will explain your options and answer any questions you might have during your consultation.
Invisalign clear braces are a good way to realign gapped teeth, but you could also opt for porcelain veneers, which can be shaped to slightly enlarge the teeth on either side of a gap, giving the appearance of even, well-aligned teeth. If a tooth is missing, an implant is the best way to go.
Teeth whitening is a simple, easy, and painless way to eliminate discolouration. At Oxley Park Dental Practice, we take a 3D digital scan of your teeth, have bespoke trays manufactured for you, and provide you with Enlighten's highly effective gel to apply for 14 consecutive nights. We are confident you will be delighted by the transformation!
Invisalign clear aligners are immensely popular for a reason. Not only are they discreet, allowing you to keep your smile correction treatment private, but they are effective in treating every type of misalignment and bite issue. The most complex issues might require a different remedy or perhaps surgery, but Dr Bechar will advise you if this is the case.
Dental treatments are sometimes most effective in conjunction with others. For example, while Invisalign braces can give you an even, symmetrical smile, they don't help with discolouration, which is best addressed through teeth whitening. A smile makeover relies heavily on consultation, where your needs and concerns form the basis of the proposed set of treatments to give you the smile you've always wanted.
Highly Recommend!
"Made to feel very welcome and put at ease for upcoming dental work. Very clean, professional practice – highly recommended."
Read Reviews
Teeth whitening
Teeth whitening is one of the easiest ways to enhance your looks. Achieve a whiter, brighter smile with Enlighten® Teeth Whitening in Milton Keynes!
BRIGHTER SMILE
Porcelain veneers
Veneers can improve the colour, shape, and appearance of your teeth with minimal tooth preparation. At Oxley Park Dental Practice, we make veneers to treat gapped, crooked, uneven, discoloured, chipped, and worn teeth.
PERFECT SMILE
Dental hygiene
At Oxley Park Dental Practice, we emphasise dental hygiene and regular visits to the hygienist to ensure optimum gum health. The hygienist will also show you correct methods of brushing and flossing and check to ensure you're doing it right.
HEALTHY GUMS